Four years ago, the ABC, CBS and NBC morning shows celebrated the "rock star" Democrats running to replace George W. Bush, and no candidate set journalists' pulses racing faster than Barack Obama. Now, after three years of high unemployment, trillion dollar deficits and an onerous new health care law, how are those newscasts covering Obama's re-election campaign and the candidates vying to replace him?

To find out, Media Research Center analysts examined all 723 campaign segments which aired on the three broadcast network weekday morning programs from January 1 to October 31, 2011, using the same methodology we employed to study campaign coverage on those same programs for the same time period in 2007.

Four years ago, the network coverage promoted the Democratic candidates and cast their strong liberal views as mainstream. This year, our study finds the networks are disparaging the Republican candidates and casting them as ideological extremists:


Labeling:
- This year, network reporters have employed 49 "conservative" labels to describe the Republican candidates, compared with only one "liberal" label for President Obama.

- Four years ago, when Obama was a relatively unknown candidate, the morning shows also provided just a single "liberal" label to describe his ideology, and never once labeled Hillary Clinton, John Edwards or the other Democrats as "liberal."    


Agenda:
- By a 4-to-1 margin, ABC, CBS and NBC morning show hosts have employed an adversarial liberal agenda when questioning this year's Republican candidates. But those same hosts' questions for President Obama leaned in his direction, with mostly liberal-themed questions.
    
- Four years ago, questions for the Democratic candidates tilted by more than two-to-one to the left, a friendly agenda.
Tone:
- In 2007, Democratic candidates were regularly tossed softball questions. This year's interviews with Republicans have been much more caustic, with few chances for the candidates to project a warm and fuzzy image.

- Despite the poor economy and low approval ratings, the morning shows continue to treat Barack Obama as more of a celebrity than a politician, airing positive feature stories about the President and his family — a gift not bestowed on the conservative Republican candidates.


During the 2008 campaign, the network morning shows acted as cheerleaders for the Democratic field. This time around, they are providing far more hostile coverage of the various Republicans who are running, while treating Obama's re-election campaign to the same personality-driven coverage that was so helpful to the then-Illinois Senator four years ago.

If the real decisions in our democracy are to be in the hands of voters, then the news media owe viewers a fair and unbiased look at the candidates in both parties. That means asking the candidates questions that reflect the concerns of both sides — liberals and conservatives alike. And the syrupy coverage awarded year after year to the Democrats' celebrity candidates in no way matches the pretense of journalists holding both sides equally accountable, without fear or favor.
    In less than a year, Americans will go to the polls to choose a new President. The stakes in November 2012 will be high: voters will either reward Barack Obama's left-wing approach, or they will reinforce the conservative message of the 2010 midterm elections. As both sides make their case over the next 12 months, the media will be their battleground.

    Four years ago, the broadcast networks were swept up in enthusiasm for Obama's historic "rock star" candidacy. Now, after three years of high unemployment, low growth, super-sized government and record deficits, how are those networks covering Obama's re-election campaign, and the candidates vying to replace him?

    To find out, a team of Media Research Center analysts examined every Campaign 2012 segment on the three broadcast network weekday morning programs from January 1 to October 31, 2011. Our analysts used the same methodology we employed four years ago to review the campaign coverage on those same programs for the equivalent time period (January 1 through October 31, 2007).

    These shows reach a sizeable audience of potential voters: ABC's Good Morning America, CBS's The Early Show and NBC's Today averaged more than 12.5 million viewers in October, many times more than the combined audience for the Fox News Channel, MSNBC and CNN at the same hours (about 1.5 million viewers).

    Unlike the networks' evening newscasts, the two- and four-hour long morning shows can spend far more time delving into a candidate's record. And unlike the networks' Sunday morning shows, the morning news shows are not geared toward political junkies, but rather the everyday voters that campaigns seek to reach. Consequently, the broadcast morning shows are a prime battleground in the candidates' competition for media attention and positive coverage.

    For this study, our analysts tabulated the total amount of coverage given to each of the candidates, including all field reports, interviews and brief news items. Then they undertook a more detailed examination of the interviews conducted with either the candidates or their designated surrogates, tallying the airtime and the ideological orientation of the questions posed.

    The results show none of the Republican candidates received the celebrity "rock star" coverage meted out to the top Democratic candidates (Obama, Hillary Clinton and John Edwards) four years ago. Instead, the networks highlighted perceived controversies and gaffes among the candidates. In interviews, the morning hosts hit the Republicans with questions drawn largely from a liberal agenda.

    And, in spite of the terrible economic situation, Barack Obama was still treated mostly as a celebrity, with the networks providing the President and his political team a forum to trash their competitors, but offering relatively little scrutiny of the incumbent's record.
Together, the broadcast networks aired a total of 723 campaign segments on the three morning shows, less than the 797 segments produced during the same period four years ago. About three-fifths of this year's items (437) were long segments — either full reports from field correspondents or interviews with candidates or analysts. The remaining 286 were relatively brief discussions of the campaign, mainly short anchor-read news stories.


Coverage of the presidential campaign has picked up considerably since the end of the debt ceiling talks in early August. Through the end of July, the network morning shows had aired just 362 stories this year (an average of about 50 stories per month), compared to 517 through the same period four years ago. Yet since August 1, the rate of coverage has more than doubled, to 120 stories per month (361). Four years ago, the networks generated only 280 campaign stories from August through October.


As might be expected, given the lack of a contest for the Democratic nomination, most of the segments were about the Republican nomination process. Yet of the approximately 60 percent of items that mainly focused on just one candidate, there were more than three times as many segments about President Barack Obama's re-election campaign (129) than about any individual Republican candidates. (This tally only includes stories that discuss Obama as a candidate, excluding items that dealt with him strictly as President.)

Among Republicans, the most coverage went to Texas Governor Rick Perry (39 segments), followed by Minnesota Representative Michele Bachmann (35) and former Speaker of the House Newt Gingrich (32). Rounding out the field, Mitt Romney was the focus of 26 segments, followed by Herman Cain (23), Jon Huntsman (13), with Ron Paul and Rick Santorum bringing up the rear with eight segments apiece. Former Minnesota Governor Tim Pawlenty was the focus of 14 morning show segments before he dropped out of the race in August.

Significant airtime went to three potential candidates who never actually entered the Republican race: Sarah Palin (50 segments), Donald Trump (27) and New Jersey Governor Chris Christie (27). Palin's tally, in fact, eclipsed that of all of the actual candidates. (These numbers only include stories/segments about these individuals as potential candidates.)

So why did Perry, Bachmann and Gingrich lead the field in coverage? The key reason seems to be that the network morning shows chose to highlight negative stories about each of those candidates. Similarly, both Palin and Trump were on the receiving end of largely skeptical stories, too, with Trump's story count inflated by negative coverage of his baseless public doubting of Obama's birth records.
NOTE: The sex harassment scandal that broke on October 31, the final day of our study period, led to an avalanche of Herman Cain stories on the weekday morning shows, with the ABC, CBS and NBC morning shows generating 46 items in just the first week of coverage. If the full week had been included in this study, Cain would have easily outstripped the other Republicans as the target of the most morning news stories.

While in 2007 the morning shows were promoting that year's top Democrats, this time around, those shows aimed to showcase what they saw as the weakest elements of the Republican field — even as President Obama continued to enjoy some of the same celebrity coverage that helped his campaign four years ago.



Still Getting Thrilled By Obama: Compared to four years ago, there's not as much gooey celebrity coverage of Obama this year, but there is some. Good Morning America, for example, was tickled to see the President quiet a crying baby back in June, 'Is President Obama a baby whisperer?' lifestyle anchor Lara Spencer excitedly wondered. 'The leader of the free world worked his magic on this munchkin.... Presto, the tot is simply transfixed.'

As they did four years ago, the morning shows had a real warm spot for Obama's family. In a typical softball segment on the October 12 Today, Al Roker asked Michelle Obama about eating healthy food and exercising: 'You got a campaign coming up, you got to hit the trail, how do you work those things in when you're traveling like that?...Do you have to get in shape to go out and campaign?...Do you have to motivate the President and the girls, or are they fairly self-motivated when it comes to this?'

Obama's birthday on August 4 was a big deal on all three network morning shows. On NBC's Today, correspondent Chuck Todd started off his report by joking how, 'starting today, assuming he becomes an AARP member, the President can now get some discounts at the movies, at restaurants, at hotels. But unlike most people who turn 50, the birthday celebration was combined with a lavish campaign fundraiser in Chicago.'

The tone was similar on ABC's Good Morning America, where White House reporter Jake Tapper cracked: 'They say 50 is the new 40.' Tapper ended his story about Obama's big campaign fundraising by observing that, in spite of his graying hair, Obama 'is still the youngest person running for President in 2012.'


And in June, GMA treated the President to a 15 minute softball interview about Father's Day. Co-host Robin Roberts giggled with Obama about how he could intimidate teenaged boys who might want to date his daughters. Obama chuckled: 'I might invite him over to the Oval Office, ask him for his GPA, find out what his intentions are in terms of career....Malia, Sasha, if you're watching this, I'm just joking.'



Publicizing Newt Gingrich's 'Baggage.' At the start of his campaign, Newt Gingrich was treated to a wave of hostile coverage of his 'baggage,' so much so that it became a cliché. As CBS analyst John Dickerson announced on the March 3 Early Show: 'The personal baggage is considerable.' A few weeks later, as the former Speaker readied his announcement, Dickerson's CBS colleague Jan Crawford recited the same line, telling viewers Gingrich has 'some personal baggage.'

'Newt's biggest problem may be baggage,' ABC's Jon Karl echoed May 11. NBC's Matt Lauer agreed the next morning: 'A messy personal life that includes two divorces, three marriages and a lengthy affair....There is some baggage that comes with Newt Gingrich.'

Four years earlier, the networks did not draw such attention to the baggage former First Lady Hillary Clinton brought to her candidacy. Leaving aside her husband's infidelities, journalists could have highlighted Mrs. Clinton's suspicious $100,000 windfall in cattle futures, her involvement in the shady land deal known as Whitewater, or her testimony to the federal grand jury investigating what was known as the 'Travelgate' scandal, which special prosecutor Robert Ray determined was 'factually false.'

Instead, the networks worked to help Hillary discard the 'baggage' of her past scandals, so she would not be burdened by voters' 'preconceptions.' On The Early Show, CBS's Harry Smith commiserated with Clinton in a January 23, 2007 interview: 'Can you be able to sit in the living rooms of people in Iowa or in town meetings in New Hampshire and get your message across, past the press, past the preconceptions?' The journalist empathized: 'Whitewater, Travelgate, the impeachment process — you were under the glare of the spotlight for eight years, and many of those days have to have been horrible. Why go back? Why go back into the middle of the white hot glare of that light?'


Michele Bachmann, Flame-Throwing Flake: As for Michele Bachmann, the network morning shows held her up as an extremist and a fact-challenged flake. On NBC's Today on June 27, just as Bachmann was about to officially enter the presidential race, correspondent Kelly O'Donnell declared that 'step one' for the Minnesota Congresswoman was 'redefining [her] public image' by 'turning down the flame-thrower persona.'

The next day, O'Donnell highlighted a trivial mistake Bachmann made in claiming that the actor John Wayne was born in Waterloo, Iowa. 'Iowans will tell you John Wayne was born 150 miles away in Winterset — details that fit a pattern of factual errors that hurt Bachmann.' To bolster the point, O'Donnell included a soundbite from Washington Post writer Chris Cillizza: 'Those kind of gaffes will catch up with her, and they're more meaningful and will get more attention because of her status.'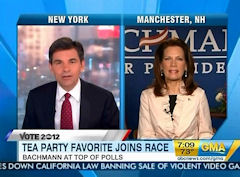 Over on ABC that same morning, co-host George Stephanopoulos scolded Bachmann about her accuracy: 'As you make progress in this campaign, everything you say is going to get more scrutiny. And the Pulitzer Prize-winning website Politifact has said you have the worst record of making false statements of any of the leading contenders.'

Stephanopoulos then used his airtime to dispute Bachmann's statement that the Founding Fathers 'worked tirelessly' to end slavery: 'Now, with respect, Congresswoman, that's just not true. Many of them, including Jefferson and Washington, were actually slave holders. And slavery didn't end until the Civil War.'

While the networks worked themselves up over Bachmann's inaccuracies, a check of PolitiFact that day showed the site had piled even more corrections of statements made by President Obama — 39 statements ranked 'barely true' and 49 branded 'false,' including more substantively relevant statements about the budget and taxes. Yet a Nexis search showed none of the morning shows had ever used PolitiFact to challenge any of Obama's assertions.


Rick Perry vs. The Safety Net: As they did with Bachmann, the networks swiftly moved to brand Texas Governor Rick Perry as an extremist when he joined the race in August. NBC's Chuck Todd, on the August 15 Today show, dutifully relayed the White House spin: 'The Obama team has been taking comfort in the fact that they believe this Republican race is moving to the right, that it's a race to the right. And they take comfort in that.'

Three days later, Good Morning America correspondent Jim Avila was downright scornful when reporting Perry's stance against onerous environmental regulations: 'Rick Perry's Texas pours more greenhouse gas into the atmosphere than any other state in the country....Unmistakably Texan, unabashedly conservative, Governor Rick Perry does not care about the overwhelming scientific evidence that global warming is largely produced by humans burning fossil fuels.'

On the September 7 Today, NBC's Tom Brokaw similarly cast Perry as an extremist: 'He describes Social Security as a Ponzi scheme. He said that the Supreme Court is an oligarchy with a two-thirds vote. He talked about secession.'
The following week, CBS's The Early Show mocked Perry in a weekly cartoon segment about the nomination race, 'America's Next Top Republican.' Cartoonists Josh Landis and Mitch Butler offered their own narration, with Butler noting how Perry 'made it legal to hunt wild boar from the air. After all, he's the kind of governor who would shoot a coyote while he's out jogging. In fact, he actually did shoot a coyote while he was out jogging.' The crude animation showed a smiling Perry blasting away with an oversized pistol.

After hearing that Texas has created more jobs than any other state, Landis scoffed: 'Texas is also one of the worst-off states when it comes to poverty, health insurance, and education. The duo included a soundbite from liberal Texas journalist Paul Burka, who caricatured Perry: 'He would turn back the clock. He would take America back to where there was basically no safety net. I don't think he believes in the safety net.'


The Rest of the Pack: Mitt Romney, who ranked as either the frontrunner or a close second in most national polls this year, drew a smaller share of the coverage, ranking behind candidates like Bachmann and Perry who joined the race much later. Much of the discussion of Romney's campaign consisted of segments about the various debates, stories that did not specifically focus on the former Massachusetts governor.


Even on the day of Romney's official announcement, the networks chose to split their coverage with a Sarah Palin event that was also being held in New Hampshire. On the June 2 Good Morning America, ABC's John Berman suggested the emphasis on Palin would help Romney: 'It might make the former Massachusetts governor, Mitt Romney, seem like a more safe, a more secure, a more reasonable candidate.'

Then in October, the networks jumped on the statement by a Perry supporter that Romney's Mormon religion was a 'cult,' casting it as another embarrassment for Perry even though he quickly stated that he disagreed with the remark. 'The race for the Republican nomination has taken an ugly turn,' ABC's Jon Karl rebuked.

But back in March, Karl's Good Morning America actually celebrated an anti-Mormon musical produced by the same duo behind Comedy Central's irreverent South Park cartoon. 'It was brilliant,' ABC White House correspondent Jake Tapper enthused, but warned: 'If you're easily offended or religiously devout, especially Mormon, I would stay away.'

Our study period ended on October 31, the first day of what turned out to be a network feeding frenzy over anonymous accusations that Herman Cain sexually harassed an employee while heading the National Restaurant Association in the 1990s. Through the end of October, Cain had been the focus of just 23 network stories, most after he won a Florida straw poll in late September, catapulting him to the top of the field in many polls.


At that time, the media's conventional wisdom saw no hope for Cain — four days after he won the straw poll, CBS's Erica Hill asked the candidate if he planned to quit the race: 'Most people would say, 'Look, you may have something people respond to, but your chances of actually getting that nomination, pretty slim.' So why stick with it then?'

Even before the harassment stories, Cain was already receiving a skeptical review from the morning shows. NBC's Michael Isikoff on October 21 seized on the fact that Cain's campaign was buying and distributing the candidate's book: 'That means profits for Cain himself, and could run afoul of campaign laws, say watchdog groups.'

Network journalists were also sour about Cain's signature tax reform plan, emphasizing its potential to shift some of the tax burden to lower income families rather than its potential to boost economic growth. NBC's David Gregory asserted on the October 26 Today: 'The problem is, this does help the rich. It hurts a lot of the poor and the middle class.' On October 12, ABC's George Stephanopoulos made the same assertion to Cain himself: 'Independent analysts have looked at this plan as well, and they say this would be a huge tax cut for the wealthiest Americans, a real tax increase for the poor and middle class.'


Four Years Ago, Swooning Over the Democrats: Four years ago, the coverage of the Democratic contenders was far less adversarial. Reporters actually swooned over Obama: 'He's today the political equivalent of a rock star,' then-CBS correspondent Gloria Borger trumpeted on the January 17, 2007 Early Show. The next day, NBC's Matt Lauer agreed: 'He's got rock star buzz around him.'


On the January 18, 2007 Good Morning America, correspondent Claire Shipman suggested Obama and Clinton were an embarrassment of riches for the Democratic Party, contrasting Obama's 'fluid poetry' with Clinton's 'hot factor.' A few weeks later, ABC's Jake Tapper touted a Hollywood reception for Obama: 'The stars came out for another million-dollar affair, honoring a thin, statuesque idol of color. No, not Oscar — Obama, Barack Obama.' In case anyone missed the point, ABC's graphic department placed Obama's smiling face atop an image of the gold Academy Awards statue.

In May 2007, NBC sent Meredith Vieira to New Hampshire to follow Barack Obama around for the day. 'Do you have a weakness on the campaign trail, anything that you have to have with you at all times? Stuffed animal?' (Obama answered that he liked 'a certain brand of green tea.') Vieira kept up the softballs: 'When your head hits the pillow tonight in Iowa, will you fall fast asleep, or will your mind be racing about the next day?...Do you dream of the White House?'


In 2007, the networks went along with the campaigns' publicity gimmicks. All three morning shows played a goofy campaign spoof where Bill and Hillary Clinton parodied the last episode of HBO's The Sopranos. NBC's Meredith Vieira exclaimed she 'loved' it, while CBS's Bob Schieffer called the spot 'hilarious... one of the cleverest things I've seen in a long, long time.'

NBC's Today show followed candidate Obama in August 2007 as he spent the day posing as a home health care worker as demanded by the SEIU labor union. 'Mr. Mom, he's not. But on a day after some big rallies and high-priced fundraisers, Barack Obama seemed genuinely at home,' correspondent Lee Cowan warmly reported. A few weeks later, NBC's Andrea Mitchell similarly touted Clinton's day spent shadowing a nurse. Back at the nurse's home for dinner, Mitchell cooed, '[Hillary] pitched right in. She was clearing the table, washing the dishes....She got her hands wet.'

None of the GOP candidates has received the giddy, celebratory coverage dished out to the Democrats four years ago, or even awarded to Obama this year.
    One telling indication of how journalists approach the two camps is their use of ideological labels. At this point in his presidency, few would disagree that Barack Obama is a bona fide liberal, and most political observers would also agree that most of the Republican candidates are principled conservatives.

    Yet when MRC analysts reviewed the morning show coverage, they found a wide disparity: 49 instances in which network reporters employed the "conservative" label to describe the Republicans, vs. just one case in which a reporter (ABC's Jake Tapper) referred to the President as a "liberal."

    Tapper, on the January 24 Good Morning America, was describing Obama's goal in his State of the Union message, saying the President hoped to "pivot back towards the center and win over all those independent voters who thought he was a centrist unifier in 2008, but many of them now see him as a big government liberal."

    Obama is well-known now, but four years ago the networks also refused to identify the virtually unknown Illinois Senator as a "liberal." Once again, the only morning show label from four years ago came from ABC's Tapper, who offered this flattering review in January 2007: "Obama has drawn raves for presenting fairly traditional liberal views as fresh and inspiring...."

    As in 2007, neither CBS nor NBC has employed a liberal label when discussing Obama's philosophy.

    And, four years ago, neither Hillary Clinton, John Edwards, Joe Biden or any of the other Democratic candidates were ever labeled as "liberal." In fact, network analysts refuted the notion that Hillary, who was advocating a mandatory health care plan much like the eventual ObamaCare law, was in any way liberal. "People think she's a liberal, even though she's hawkish," MSNBC's Chris Matthews huffed on the January 15, 2007 Today.

    With this year's crop of Republicans, however, the networks aren't being nearly as stingy with the ideological labels. On the March 22 edition of NBC's Today, for example, Natalie Morales told viewers about former Minnesota Governor Tim Pawlenty's candidacy: "The 50-year-old conservative announced on Facebook Monday that he was forming an exploratory committee...."

    Two days later, ABC's Jon Karl talked about Sarah Palin and Michele Bachmann: "They are the queens of the Tea Party. Tough, uncompromising, as conservative as they come...."


    On the June 13 Early Show, correspondent Jan Crawford called former Senator Rick Santorum the "strongest social conservative in the bunch." On the June 27 Good Morning America, reporter Jonathan Karl described Congresswoman Michele Bachmann as a "take-no-prisoners conservative." The next morning on Today, co-host Matt Lauer asked Bachmann: "Are you at all concerned that your socially conservative views, that make you very popular in Iowa, might not play as well down the road?"

    Interviewing Bachmann on August 12, Today fill-in co-host Lester Holt dropped several labels in one question: "As you know, Rick Perry, the conservative governor of Texas, is about to join the already crowded field of GOP contenders. He comes from the same conservative cut out that you come from, but he also has the added advantage of being the chief executive of a huge state like Texas. How will you compete against him and how will you distinguish yourself from him to conservative members of the party?"

    And, NBC's Savannah Guthrie presumed conservative views were a hindrance when she interviewed Jon Huntsman on September 1: "Do you think that Governor Perry or Michele Bachmann are too far right to win and beat President Obama?"

    It's certainly not inaccurate to describe Perry, Bachmann and most of this year's GOP candidates as "conservative" — they wear the label proudly. But if the networks are going to treat both sides fairly, they should be just as ardent in pointing out the ideology of liberal Democrats as they are with conservative Republicans.
Our researchers documented 101 interviews with the candidates and their surrogates on the broadcast morning shows during the first ten months of 2011. Actually, only one candidate was represented in interviews by his spouse or political aides, and that was President Obama. The President and his team appeared 39 times, vs. 62 appearances for the entire GOP field, including potential candidates such as Donald Trump, Chris Christie and Mike Huckabee who never joined the race.

President Obama's interviews (all of which were taped pieces, some of which originally had been broadcast on other news programs) were notable for their generally positive and non-ideological approach. His nine appearances totaled nearly 94 minutes, or more than ten minutes apiece. The average length for a segment featuring a Republican candidate was barely half that, just 5 minutes, 19 seconds.

Including Obama's surrogates — First Lady Michelle Obama, Vice President Joe Biden, and political aides David Plouffe, David Axelrod, Robert Gibbs, Valerie Jarrett, and William Daley— the Democrats' airtime totaled nearly four hours (237 minutes).

The combined Republican field drew a total of five and a half hours (330 minutes). That figure drops to just 4 hours, 23 minutes — just 26 minutes more than the Democrats' total — when interviews with non-candidates Trump, Christie, Huckabee and Rudy Giuliani are excluded.

Four years ago, the Democrats drew more than twice as much total airtime as the Republicans on the morning shows — nearly six and a half hours for the Democrats vs. barely three hours for the GOP. This time around, even with no primary contest on the Democratic side, the networks are providing the President's team with nearly equal access to the morning news audiences.

Team Obama drew more than three times the airtime of the most visible Republican, Michele Bachmann, whose 71 minutes of morning show airtime was dwarfed by the Obama camp's 242 minutes. Tim Pawlenty was the second most visible, with 42 minutes spread out over nine interviews before he dropped out of the race in mid-August. And during the few months in which he flirted with running, Donald Trump appeared five times for a total of 39 minutes.
As the chart shows, the rest of the Republican field drew roughly the same amount of interview time on the morning shows, ranging from 27 minutes for Rick Perry to 18 minutes for Herman Cain. Omitted from the chart are the candidates who received the least airtime: former Pennsylvania Senator Rick Santorum (4 interviews totaling 17 minutes) and Texas Congressman Ron Paul (3 interviews, 16 minutes).

Apart from Bachmann, none of the current GOP contenders has received as much airtime as Obama's ubiquitous political spokesman, David Plouffe, who by October 31 had already racked up eight morning show appearances totaling 32 minutes.


Hitting Republicans With a Liberal Agenda: As might be expected, most of the questions posed to the Republican candidates had to do with campaign strategy and personal controversies. But our analysts counted 104 'ideological questions' — policy-based questions that incorporated either a liberal or conservative premise.


Of those, the vast majority (85, or 82%) reflected a liberal policy agenda, vs. just 19 (18%) that highlighted the concerns of conservative voters. Thus, instead of functioning as a surrogate for the Republican rank-and-file voter who probably won't get a chance to question a candidate, TV journalists used their time with the candidates to push a standard liberal agenda.

A central policy issue for many of these interviews was the economy and the growing national debt, and network hosts consistently pressed the candidates for their reluctance to agree on the need for a tax increase. On the April 13 Today, for example, co-host Matt Lauer hit Bachmann: 'Is raising taxes on the table?' before employing liberal rhetoric: 'Why shouldn't the burden be equally shared? Why shouldn't we put some of that burden on the wealthy and corporations?'


Over on ABC's Good Morning America on January 11, co-host George Stephanopoulos seemed appalled by Tim Pawlenty's call for lower taxes to spur economic growth. 'Won't tax cuts increase the deficit?' Stephanopoulos wondered. Pawlenty got hit with the same spin May 23 on CBS's The Early Show, as co-host Erica Hill demanded: 'What about raising taxes? Because, and I bring this up again, you say government money isn't free. At some point, do you have to look at raising taxes, and do people have to pay more for what's needed in this country?'

On June 3, Hill badgered Mitt Romney for his opposition to Obama's huge bailout of General Motors and Chrysler in 2009: 'You also accuse the President yesterday of making the recession worse. But based on what we've seen in the auto industry, weren't you wrong in this case? Wasn't it right for both the auto industry and for the American economy to help that industry?'


And in September, Hill hit Newt Gingrich for backing the Tea Party: 'There's a feeling by some folks that this very small group of people is starting to control the conversation. Do there need to be more voices at the table, in general, at this point?'

A month later, she went after the ex-Speaker again, this time for criticizing the left-wing 'Occupy Wall Street' protests: 'You have had some pretty outspoken words, though, for the folks behind Occupy Wall Street, that you don't think this is a great move, that you don't really see what their point is. Yet, a number of Americans say they're behind it.'

Even Jon Huntsman, the most liberal of the 2012 Republicans, got hit from the left on economic issues. On June 22, NBC's Ann Curry sounded like every other morning show host as she asked Huntsman about the deficit: 'Does that revenue side include raising taxes? Is that off the table to decrease the national debt?'

In that same interview, Curry also admonished Huntsman that his personal wealth would hurt his credibility on the jobs issue: 'You're the son of one of the richest men in America and you, yourself — you're also wealthy — at a time when corporate America is making record profits and not hiring. So what do you say to, especially blue collar workers, who say what they want is a President who knows how to bring jobs back to America?'

Huntsman and Romney were the most likely to face the rare right-leaning question, together accounting for nine of the 19 conservative questions we documented. ABC's Stephanopoulos, for example, grilled Romney about the similarities between his Massachusetts health care plan and ObamaCare back on February 1: 'Why is it right for a state to impose that kind of a mandate and not the federal government?'

On May 20, Stephanopoulos also took aim at Huntsman's decision to take Obama's stimulus funds back in 2009. 'When you were asked about it, you suggested that one of the problems with the stimulus is that it wasn't big enough. Is that what you still believe?' Huntsman responded that his choice would have been for a package with larger tax cuts.
Four Years Ago, Ideologically Friendly for Liberal Democrats: It's not necessarily biased for TV hosts to ask a group of mostly conservative candidates to respond to liberal policy arguments. But four years ago, the same network morning shows did not confront the Democratic field with conservative policy arguments.

Looking at the same time period, MRC analysts documented 137 'ideological questions' posed to the Democratic candidates. The breakdown was decidedly to the left: 99 liberal-themed questions, vs. 38 conservative-themed questions, a nearly three-to-one disparity (compared to the more than four-to-one liberal tilt this year).

For example, on NBC's Today, February 5, 2007, co-host Matt Lauer saluted John Edwards: 'I'm going to — I'll applaud your honesty. You basically have come out and said, 'Look, I want universal health care for everyone in this country, and I'm going to raise taxes to accomplish it.''


Lauer similarly promoted the liberal side when he interviewed Hillary Clinton on September 18, suggesting her health care plan was too pro-industry and not aggressive enough. 'Critics are saying that this in some ways is the kind of plan you would have rejected back in 1993,' Lauer scolded. 'Have you watered down reform?'

A month later, ABC's Dr. Timothy Johnson tried to flatter Clinton during an interview on Good Morning America: 'You have talked eloquently about the need for an electronic record keeping system....' Johnson also attempted to cast opponents of a government-based health system as immoral: 'You have said that providing health insurance for everyone is a moral issue. Do you think the Republicans who are against it are immoral?'

It wasn't just health care — journalists presented the liberal approach when asking the Democratic candidates about the war in Iraq, one of the top issues in that year's campaign. Today's Meredith Vieira pleaded with Barack Obama on January 11, 2007: 'What can you do as a Senator? What are you willing to do to stop the troops from going there?' On ABC later that month, co-host Diane Sawyer hit Clinton as not liberal enough, asking about her vote to authorize the Iraq war: 'Is that your biggest mistake as Senator?'

The network agenda four years ago was reasonably consistent with that of liberal primary voters trying to choose their party's nominee. But this year, conservative voters would have to strain to hear their concerns reflected in these same morning show interviews.


This Year, Few Hostile Questions for Obama: Morning show interviews with Barack Obama were mainly free publicity for the Campaigner-in-Chief, with the President's appearances coinciding with news events that would cast him in a favorable light. In the days after the successful raid that killed Osama bin Laden, CBS's The Early Show, for example, ran two lengthy excerpts from Steve Kroft's 60 Minutes interview with Obama.

Given the news, no tough questions would have been expected, and none were forthcoming. Instead, Kroft eagerly asked what it was like to be in the Situation Room: 'What was the mood?...Were you nervous?...What could you see?...Could you hear gunfire?'

Weeks later, during the debt talks with Republicans, CBS Evening News anchor Scott Pelley invited Obama to play the victim in an interview later shown on the July 13 Early Show: 'The Republican leader in the Senate said that they can't do business with you — as long as you occupy this house, there will be no deal.' And: 'Ronald Reagan and Tip O'Neill were on opposite sides of the political spectrum, but they respected each other, they liked each other, and they got things done.'


On September 12, NBC's Today show ran clips of an upcoming interview in which Nightly News anchor Brian Williams genially asked Obama to play pundit on the GOP field. 'Did you watch any of the Republican debate?...Mitt Romney, quote, 'The President's a nice guy. He doesn't have a clue how to get the country working again.' Your reaction?...What do you make of Rick Perry, who is, I guess, the frontrunner?...Tea Party here to stay?'

Williams also teased an even more obsequious section of the interview to air later that night, telling Matt Lauer: 'I went on to ask him when he's going to channel his inner Harry Truman, as members of his base have been asking....I also asked him about all the people who voted for the man on the poster that said 'Hope.' That answer was illuminating — we'll have that tonight on Nightly News.'

Journalists posed few ideological questions to Obama. Our analysts found just 12 questions that reflected an agenda — five conservative questions vs. seven liberally-themed questions.

ABC's George Stephanopoulos posed two of those from the left, both selected from questions sent in by viewers. In an April 15 interview, he hit Obama with this from Louise Ross of Chester, New Hampshire: 'Why not release at least some of the oil in our reserves before gas reaches $5 a gallon. If that's a rainy day fund, it's pouring out. Give us a break. That's what it's there for.'

In October, he similarly passed along a viewer's plea for the President to tamper with the free market: 'More than 40,000 questions came in online for the President, most expressing anxiety and anger about the economy, including outrage at Bank of America's $5 debit card fee. Vicki Menkel wrote, 'Those are the types of things government should get involved in and put a stop to.' [to Obama] Can you put a stop to that?...Can you stop this service charge?'

Stephanopoulos never passed along a right-leaning question from viewers to the President, but CBS's The Early Show managed to include a conservative-themed question during a May 12 town hall meeting with Obama on the economy. Anna Urman, a small business owner, asked Obama: 'What can your administration do to ensure that any new laws and regulations not only not hurt small businesses, but in fact help them grow and thrive?'

Moderator Harry Smith invited her to expand on her point, which she did: 'As a small business owner, my business's income is my income, so I feel like I'm being taxed higher than somebody, you know, who earns a regular job with the same amount of income?'

During the same event, Obama was also treated to questions from a liberal perspective, including from a self-employed accountant, Bernard Miller: 'My question to you is, you've proposed budget changes to Medicare. I'd like to know how they still would be able to keep the 45-year promise that's been made to the American public.'


While the Republican candidates were routinely asked about any gaffes or perceived mistakes, NBC's Ann Curry sat back when, on the June 14 Today, Obama preposterously claimed that ATM machines were a reason why fewer jobs were being created during the current economic recovery: 'There are some structural issues with our economy, where a lot of businesses have learned to become much more efficient with a lot fewer workers. You see it when you go to a bank and you use an ATM, you don't go to a bank teller.'

Curry failed to recognize the absurdity in Obama's claim — ATMs have been widely used since the 1980s, and the number of people employed as bank tellers has actually increased during that time, to more than 600,000 in 2008 according to the Bureau of Labor Statistics, not counting the thousands more who are employed in manufacturing, servicing and repairing the machines.

Even worse, once it became clear that Obama had bungled his talking point, neither Today nor any of the other morning shows bothered to mention the ATM gaffe in the days that followed.

Inviting Obama's Surrogates to Slash the Republicans: Four years ago, the Democratic candidates were often represented on these morning shows by their spouses, campaign managers, strategists or other spokesmen. Having a surrogate speak on behalf of a campaign creates more of a presidential aura, building up the candidate as a potential statesman.

But this year, none of the Republicans has been given a chance to speak through surrogates, although Mitt Romney appeared once with his wife, Ann, on NBC's Today and later appeared with New Jersey Governor Chris Christie after the latter's endorsement. Also, back in January, Texas Congressman Ron Paul appeared on Good Morning America with his son, Kentucky Senator Rand Paul.


Only the Obama campaign has been represented on the morning news shows by surrogates. Michelle Obama was featured in four softball interviews totaling nearly 35 minutes. NBC's Matt Lauer spent nearly 14 minutes with the First Lady back in February. His hard-hitting agenda included questions about whether the President was using hair dye, and about her role in getting him to quit smoking. 'Was there some tough love at the White House concerning this?' Lauer wondered. 'Is it possible he may be going into the Lincoln bedroom and sneaking a smoke every once in a while?'

Obama's political staff used the morning newscasts to go after the opposition. ABC's George Stephanopoulos made it a habit to bring aboard an Obama spokesman to critique several of the Republican debates. 'Who won last night's debate?' he asked David Axelrod on August 12. Axelrod slammed the candidates for rejecting tax increases: 'Really, what they were doing was pledging allegiance to the Tea Party. They were not willing to accept one more dime of taxes on the wealthiest Americans.'


On October 11, Stephanopoulos invited David Plouffe to critique the newest GOP frontrunner: 'Weigh in on this Herman Cain phenomenon....What do you make of Herman Cain?' Plouffe used the opportunity to hit the entire field: 'All of the candidates... want to let Wall Street write their own rules, huge tax cuts for the wealthy and big corporations....'

CBS's Jeff Glor brought Axelrod onto The Early Show October 19: 'What did you think of the debate last night?' Axelrod: 'If you were an American who is worried about jobs or how we restore security for the middle class, there wasn't much in it for you. Herman Cain wants to raise taxes on 85 percent of Americans; Rick Perry thinks we can drill to prosperity; and Mitt Romney thinks we need more and faster foreclosures.'

NBC's Matt Lauer similarly cued up Robert Gibbs on October 27: 'Do you think you'll have a field day against Mitt Romney?' Gibbs mocked: 'I think Mitt Romney is going to have a tough time explaining what Mitt Romney was for in the past and what Mitt Romney is for now.'

Not every question was an open-ended softball. For example, Lauer pressed Gibbs back on August 16 about the President's just-announced intention to submit a jobs plan: 'I was shaking my head thinking, 'Where was this plan a month ago, when we were in the middle of the debt ceiling debate?' What is new here? And why should people believe it's going to work?'

But for the most part, the networks' open-door policy permitted Obama's staff to continuously critique the Republicans, while their own candidate enjoyed a much kinder and gentler experience with the morning shows.


Softballs for Obama, Hardballs for the GOP: While this year's crop of Republican candidates faced mostly adversarial questions about political topics, President Obama enjoyed the same sort of friendly, personal questions that aided his campaign four years ago.

During Mike Huckabee's appearance on Good Morning America in February, George Stephanopoulos painted mainstream Republicans as a engaging in fringe behavior: 'It seems like Republican leaders have the hardest time in the world saying simply and clearly 'President Obama is a Christian and President Obama is a citizen. Get over it.''

He tried the same approach with Michele Bachmann a few days later: 'Can you just state very clearly that President Obama is a Christian and he is a citizen of the United States?' Bachmann told Stephanpoulos: 'I think we should take the President at his word.'


Also that month, NBC's Meredith Vieira took a frosty line with Tim Pawlenty when he appeared on Today, quoting criticisms from Pawlenty's Democratic successor: 'What makes you better equipped to run the nation's economy, if you left your own house in such disarray?'

Before Rick Perry declared his candidacy, ABC was touting his record on job creation. 'Perry has got an almost picture perfect political resume,' ABC's Jon Karl enthused on the August 10 Good Morning America. 'His state is leading America in what might be the most important category, jobs — 220,000 new jobs over just the past year. In fact, nearly 40 percent of the job growth in the United States since President Obama became president have been in Rick Perry's Texas.'


Yet just two months later, ABC's Stephanopoulos was castigating Perry for the same record, painting it as dreadful: 'Your opponents point out that unemployment has doubled during your tenure as governor, and that about 65 percent of the Texas job gains since 2007 are actually government jobs. Is that the model for the country?'

With President Obama, the networks continued to treat him as an honored celebrity, softening his image with lots of questions about his family. Today's Ann Curry asked about the 'family meeting' she imagined before Obama decided to run for re-election: 'Did you ask Michelle and the kids about this at the table?'

Steve Kroft's 60 Minutes interview about the bin Laden raid also included a Michelle angle: 'Did you have to suppress the urge to tell someone? Did you want to tell somebody? Did you want to tell Michelle? Did you tell Michelle?'

'The President says the best piece of advice he got from Michelle: that the mark of success comes from having happy and loving children,' ABC's Stephanopoulos admired on October 4. He asked Obama: 'How do you protect them, this time around, when everybody's saying all these bad things about you?'

Good Morning America's pre-Father's Day interview with Obama was replete with soft questions, one sent in via video from a soldier in Afghanistan: 'Mr. President, the last two years I've missed my Father's Day with my girls and I wanted to ask you, what would you consider is the most perfect day with your girls on Father's Day?'

Obama beamed in response: 'Well, it's a great question....'

There's nothing wrong with exploring these human interest angles, but journalists know that such questions are invaluable to candidates hoping to create a personal bond with voters. Just as in 2007, the morning shows treated Barack Obama like a celebrity, while his potential rivals were treated as merely flawed politicians.

In 2004, journalism suffered a black eye when CBS's Dan Rather attempted to sabotage George W. Bush's re-election with phony documents. In 2008, the networks' adoring coverage of Barack Obama became fodder for late night comedians. If the media fail to adhere to the public's expectation for fair and unbiased election coverage in 2012, they will squander whatever credibility still remains.