Eric Lichtblau is the latest New York Times reporter who can find no 'liberals,' just well-meaning 'advocates for the poor,' in a misleading left-wing publicity stunt to keep the welfare budget from being trimmed: 'Interest Groups Seek to Catch Debt Committee's Ear.'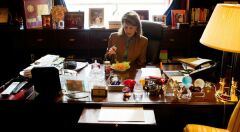 In fact, only the first three and last three paragraphs of his budget cut-story deal with the 'food stamp challenge,' but a large accompanying photo shows Rep. Jackie Speier taking part, sitting at her desk dolefully picking at a tuna and lettuce salad.


Facing billions of dollars in possible cuts, advocates for the poor are resorting to some creative tactics to grab the attention of Congress: Getting lawmakers to try eating on $4.50 a day, just as some 46 million food-stamp recipients already do.

From Miami to Milwaukee, lawmakers and rank-and-file supporters have taken up the 'food stamp challenge' to draw attention to the program's meager benefits as budget cuts loom. Representative Jackie Speier, a California Democrat, had a scoop of tuna and a few lettuce leaves for lunch Thursday after scouring a Safeway grocery in her home district for $13.27 in bargains earlier in the week.

The lean diet 'adds a human dimension to hunger and underscores for members the real risks,' said Ellen Vollinger, a lobbyist for the Food Research Action Council, a Washington advocacy group working with religious organizations to fight cuts in nutrition programs.


FRAC is a left-wing group notorious for a 1991 report that made the wildly inaccurate claim that one child in four in the United States was either hungry or 'at risk' of hunger. But to Lichtblau, who proved his biased bona fides in his intelligence coverage for the Times, simply terms it "a Washington advocacy group.'


As Representative Speier prepared to eat her tuna and lettuce Thursday on her food stamps budget, she said she hoped that the committee members got the message one way or the other.

'It'd be nice if members of the committee tried to eat for $4.50 a day,' she said.


But is that really an accurate picture of what's going on with food stamp recipients? Blogger Don Surber offered a reality check, starting with the new name of food stamps, SNAP, which stands for Supplemental Nutrition Assistance Program. That's a pretty big hint that food stamps are meant to supplement food purchases, not to serve as a limit. Also:


Left out of the equation is the fact that food stamps are a subsidy, not a limit. People on food stamps are not limited to spending only their subsidy on food. In fact, this is a subsidy - in addition to what they would spend. That $4.50 a day is misleading. The maximum subsidy for a family of 4 is $668 a month or $154 a week. Not bad.