The New York Times, pushing gay-rights activism even in death. Reporter Douglas Martin's obituary on Tuesday for Danny Evins, founder of the Cracker Barrel chain of restaurants that dot highways throughout the South, heavily emphasized his 20-year-old position on openly gay employees. The Times devoted the headline and several paragraphs, including the lead, to the old news. 'Danny Evins, Restaurant Founder And Focus of Controversy, Dies at 76.' The text box read: "Imposing, and later dropping, a policy to reject gay employees." (In contrast, the Washington Post kept it out of the headline and devoted just two sentences to the incident.)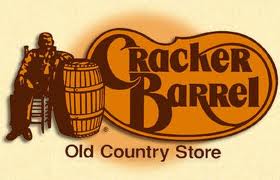 Danny Evins, who created Cracker Barrel Old Country Store, a restaurant heavy on grits and nostalgia, expanded it into a $2 billion chain and then fought a losing battle to discriminate against gay employees, died on Saturday in Lebanon, Tenn. He was 76.
....
The idea of staking out real estate at exits on Interstate highways to establish a distinctive alternative to fast food - one that included gift shops featuring homemade jellies in old-fashioned glass jars - elicited raves from financial analysts, truck drivers and children just glad to be out of the car.
....
His tone was considerably harsher when it came to defending a January 1991 directive to all the company's restaurants to fire employees 'whose sexual preferences fail to demonstrate normal heterosexual values.' Mr. Evins's explanation for the edict was that gay people made customers in rural areas uncomfortable. As many as 16 openly or suspected gay employees were promptly fired.

Protests erupted at restaurants in dozens of cities and towns; boycotts were organized; and shareholders complained.
At a time when discrimination against gay people was not prohibited under the laws of most states or the federal government, and many companies practiced it, Cracker Barrel's action stood out for its sheer blatancy.
Martin co-wrote the August 2009 obituary for conservative journalist Robert Novak, which also featured strong language for an obituary: "On cable television, Mr. Novak was the often churlish commentator in the three-piece suit, his eyebrows, it seemed, permanently arched."
Martin prefers leftists. In a July 2010 obit for alarmist climatologist Stephen Schneider he identified Paul Ehrlich as a 'biologist and population expert.' In his discredited 1968 best-seller 'The Population Bomb,' Ehrlich infamously called for the U.S. government to take "immediate action" to halt population growth, in order to avert mass death by starvation in the 1970s. (Some 'expert.')