As if more proof were needed that the broadcast networks don't get religion, and really don't get Catholicism, analysis of the evening news programs from Feb. 11 showed a how inadequate the assumptions of liberal secular journalists were in explaining the Church, its mission and its role in the lives of the faithful.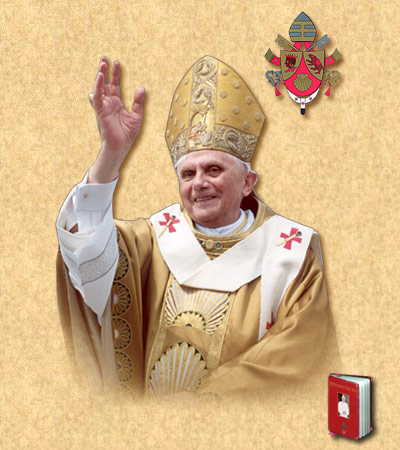 On the day of the surprise resignation of 85-yr-old Pope Benedict XVI, ABC, CBS and NBC all danced the "The Papal Reporting Two-Step": dwell on the negatives of the recent past before wondering hopefully if the Church will now finally step out of the dark ages of orthodoxy. Of the three, however, ABC was far and away the worst. 
Step 1: 'Scandal and Erosion' 
It must be a blessing to be able to look not just back across the 2000-year history of the Church, but into its future and make a pronouncement a Pope's place in posterity. It's a gift ABC's Jeffrey Kofman apparently possesses, since he jumped to pass history's verdict on Benedict XVI's pontificate. "He's never enjoyed being an administrator, and he paid a price for that; his papacy will be remembered for its scandals." Kofman was of course referring to "those endless sexual abuse scandals," "a string of financial scandals," and the "the notorious VatiLeaks scandals." Got that? There were scandals. 
Forget how many people the Church fed, children it educated, or women it freed from sex trafficking during the last eight years. Ignore the accomplishments of World Youth Day in 2005, 2008 and 2011, in which hundreds of thousands participated. Don't give a thought to Benedict's historic visit to a Roman synagogue, the changes to make the Mass more accurate to the early historical Greek version, his three encyclicals, three books, 20 Papal visits, his strengthened ties to the Anglican and Orthodox Churches, his technological outreach through YouTube and Twitter, and the hundreds of abuse victims he met with and apologized to. 
Diane Sawyer asked New York's Cardinal Dolan if the Pope's declining health hadn't been brought on by the "burden of what the Church has been through with the scandals."
CBS wasn't content just discuss scandals. It brought on Bernie McDade, a sexual abuse victim who complained that, on meeting Benedict, "he wouldn't talk to me. He looked down and just said, 'Yes, yes, yes, my son.' That was it."
CBS's Seth Doane admitted that, "In recent years, the Church has expedited it's removal of abusive priests. But, Scott, it has not moved to punish the bishops responsible for protecting those priests by moving them from church to church." Yet just two weeks ago, retired Cardinal Mahoney of Los Angeles was stripped of administrative duties and publicly censured by his successor for Mahoney's role in covering up sex abuse instances. 
But no matter, it's been a "troubling time for the Catholic Church," according to NBC's Brian Williams. The Network's Ann Thompson noted that "declining numbers of Europeans and Americans practice they faith." At ABC, Cecilia Vega said that, while Catholicism is the single largest denomination in America, many think that if it weren't the influx of new immigrants, it's numbers would be shrinking. 
The inference is that the Church is losing members because it hasn't kept up with the times. Which brings us to: 
Step II: "Fundamental Change." 
The moral stances of the Church were anathema to the liberal sensibilities of the networks. Clinging to absolute Truth and old-fashioned concepts of sexual ethics couldn't be more out of step with their modern world. That the Church hasn't caught on must be because of a few "conservatives," like Benedict XVI.
So in reporting his resignation, they stressed his lack of modernity and held out hope for a Brave New Church with the election of a successor. 
NBC's Brian Williams called Benedict "An old-fashioned man in modern times." Correspondent Richard Engel said he was "conservative guardian of Church doctrine." 
ABC correspondent Cecilia Vega said Benedict had "taken a hard line against everything from gay marriage to abortion. The Vatican even recently went public with its criticism of American nuns for being too progressive." 
Vega's colleague Kofman said Benedict had "tried to hold back the forces of modernity, refusing to expand the role of women." Then, without offering evidence, Kofman said, "Now though he is accepting the reality of the modern world." 
On CBS, Scott Pelly said, "The pope was very conservative in a doctrinal sort of way when a lot of American Catholics are looking for a pope to lead into a new era – of maybe for women in the church, for example." 
And since journalists seem to believe the succession to the Throne of St. Peter is something akin to a new NFL Commissioner coming in to do something about helmet safety and liberalize end zone celebration rules, they loaded the moment with their own hopes.  Article continues below video.
Williams said Benedict's resignation could bring on "possibly a huge period of change. Ann Thompson said, "Some express the hope a new leader might mean a new attitude about women and married priests or human sexuality." 
Over at ABC, Vega "spent the day gathering American reaction from all over," according to Sawyer. That reaction was fairly predictable. "For many American Catholics a world away from the Vatican, there is devotion to a centuries-old institution," she said. "But for many others, today meant hope for a modern beginning." She then took viewers on a tour of the country where – surprise! – she found people who said "society is leaving the Church way behind," who wanted the Church to "allow women the opportunity to become a priest," and a wanted a Pope "more accepting of gay people." She then went through statistics she said showed that "compared to their church, many American parishioners seem to have a softer stance on social issues."
Back in New York, Sawyer asked Cardinal Dolan, "What would you like to see the next Pope be and do in order to be as inclusive as possible of the American Church and the American views on these social issues?" But before the Cardinal could answer, Sawyer told him, "There has to be fundamental change." 
Unfortunately for Sawyer, Dolan didn't seem to recognize her theological authority. "Yeah, there could be a change in style," he said. "There's certainly always going to be a change in heart, because conversion of heart is what we're about. But there can't be a tampering with the changeless teachings of the Church."